***INTERNATIONAL SHIPPING INFORMATION. ***Some countries may charge an import or customs fee to order internationally. We can't advise you of what this will be, it is the recipient's responsibility, so if you're unsure, please check with your country's customs office! NEW EU VAT RULES: The VAT and possible other postal/carrier charges will have to be paid by consumer for goods imported/delivered to EU on or after 1st July 2021. We recommend EU consumers to take this into account when ordering goods from outside the EU!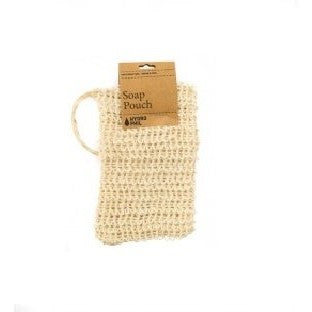 Hydrophil Biodegradable Soap Pouch
Hydrophil biodegradable soap pouch
This soap pouch by Hydrophil is made from 100% biodegradable sisal. The surface ensures that more foam is produced and it peels your skin at the same time. Sisal is a natural fibre that comes from the agave sisalana plant and is stronger and more durable than other natural fibres. Additionally, our soap bag is also designed for storing bars of soaps. It is great for keeping bits of soap together and making them into a lather. The textured surface exfoliates the skin without any micro plastics or other artificial additives.
Sisal, the material the bag is made of, is a completely natural, regrowing resource. Thus, the soap pouch is fully biodegradable. Very often, carpets and ropes contain sisal fibres.
soap pouch made from biodegradable sisal
ideal to hold your soap and soap pieces
exfoliates your skin
the surface ensures that more foam is produced
vegan and vegetarian friendly
fair working conditions
robust
plastic free
no BPA
eco friendly
sustainable
water neutral
zero waste, zero waste living, zero waste bathroom