***INTERNATIONAL SHIPPING INFORMATION. ***Some countries may charge an import or customs fee to order internationally. We can't advise you of what this will be, it is the recipient's responsibility, so if you're unsure, please check with your country's customs office! NEW EU VAT RULES: The VAT and possible other postal/carrier charges will have to be paid by consumer for goods imported/delivered to EU on or after 1st July 2021. We recommend EU consumers to take this into account when ordering goods from outside the EU!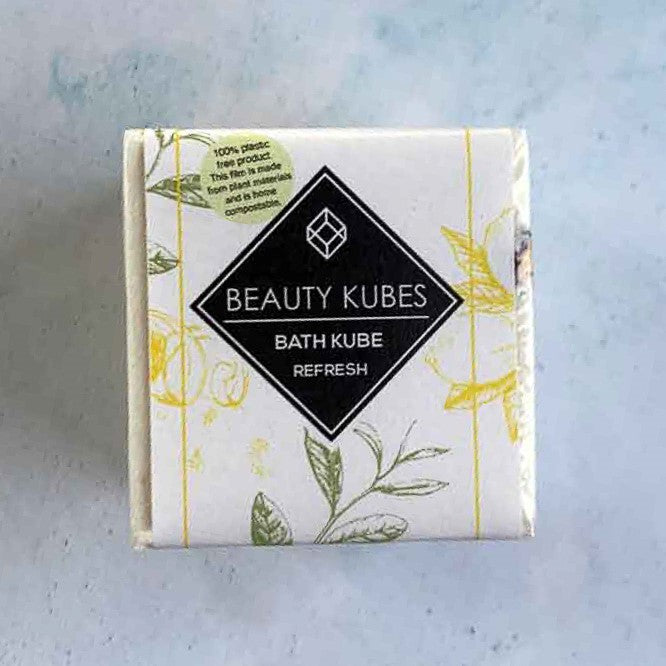 Beauty Kubes Bath Kubes Refresh
Beauty Kubes Bath Kubes Unwind is natural and also vegan product, they work in a similar way to a bath bomb. Just take one half of the Kube and put it into the bath under running water, the water helps to generate bubbles. Enriched with soothing oats, Cornish clay and Jojoba oil, your skin will feel super-soft and gently cleansed.
Each Kube is wrapped in a 100% plastic free film which is plant based and third party certified to be home-compostable. The label is made from paper and is fully recyclable and biodegradable.
Organic Bath Kubes
Each Tube weighs 180g and contains two halves. Each half provides one bath.
Palm oil free
Cruelty Free
Plastic Free
Sulphate free
Vegan friendly
Environmentally friendly
Please check the link below for more information