***INTERNATIONAL SHIPPING INFORMATION. ***Some countries may charge an import or customs fee to order internationally. We can't advise you of what this will be, it is the recipient's responsibility, so if you're unsure, please check with your country's customs office! NEW EU VAT RULES: The VAT and possible other postal/carrier charges will have to be paid by consumer for goods imported/delivered to EU on or after 1st July 2021. We recommend EU consumers to take this into account when ordering goods from outside the EU!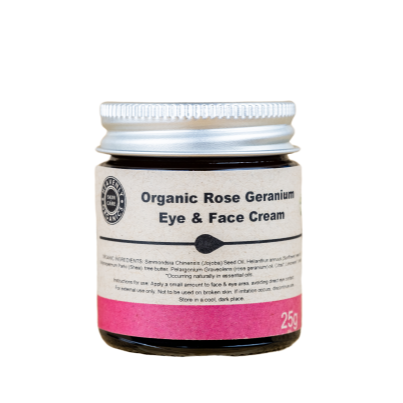 Heavenly Organics Rose Geranium Eye & Face Cream
Organically made with three delicately blended ingredients of shea butter, sunflower seed oil and jojoba oil. All rich in vitamins A, E & F and are anti inflammatory & antioxidants. Similarly, this gentle cream will soothe, calm, soften, nourish and protect your skin. With its anti-microbial and anti-spasmodic properties. A little goes a long way with only a pea sized amount per application being necessary. Ultimately, you'll be amazed at how far it spreads and how easily it is absorbed into the skin.
With a gentle rose aroma, this soothing, nourishing eye & face cream will  leave your skin feeling hydrated, moisturised & divine. It can also help reduce enlarged pores and does wonders for balancing out uneven skin tone. Being anti-inflammatory, anti-viral, anti-fungal anti-bacterial, anti-microbial and anti-septic  it is incredible with treating acne, blemishes and spots.
Eye & face cream
contains 25 g
Type: Rose Geranium
Natural and also organic
Not tested on animals and also no animal products used, therefore, vegan
Organic Skin care
Glass jar and also aluminium lid
BPA free
Palm oil free
Rich in Vitamins A, E & F
nourishes the skin
ideal for people fighting allergies and also who are sensitive to essential oils
spreads easily
absorbs quickly
can also be used as lip balm
Please check the link below for more information